General Info
We are looking forward to seeing you in Australia this June. A quick note for our Nothern Hemisphere participants: It will be Winter in Australia!. Melbourne and Hobart are fairly temperate, but expect weather in the 40F/10C range.
Before Registering, please make sure that you review the IPTA code of conduct.
Please register for the conference here: https://www.trybooking.com/BHVVX
Abstract submission:
We will be collecting abstracts separately from the registration. Please submit abstracts through this google form.
If you are having difficult accessing the abstract submission form, please email Ryan Shannon (rshannon@swin.edu.au) with the following information:
Name
Affiliation
Title
Abstract
Talk or poster contribution
Student Workshop / Hack Week Venue
The student workshop and hack week will be held June 9th through 12th in Melbourne, Victoria at Swinburne University of Technology. The student workshop will be held in the SPS building (SPS 136/137). The hack week rooms will be announced at a later date.
Travel to/from Melbourne international airport:
Tullamarine airport (MEL) is the major domestic and international airport in Melbourne, about 33 kilometres from Swinburne University. You can take a taxi/uber to and from MEL (costing around AUD $60-$70) or the Sky Bus (AUD$18 one-way ticket) into the CBD, followed by public transport options (use the Public Transport Victoria website). Alternatively, you could rent a car or ride share with other attendees.
Recommended accommodation (Melbourne):
We recommend the following accommodation conveniently located near Swinburne University (there have been no rooms reserved – first-in best dressed!):
Quest apartments, Hawthorn +61 3 8803 7700
The Glenferrie Hotel +61 3 9818 6530
Hawthorn Gardens apartments +61 3 9822 7699
Search accommodation in Hawthorn on www.airbnb.com.au
Science Meeting Venue
The science meeting will be held June 15th through 19th in Hobart, Tasmania at The University of Tasmania (UTas) in the Centenary lecture theatre and the Geoff Cheesman room.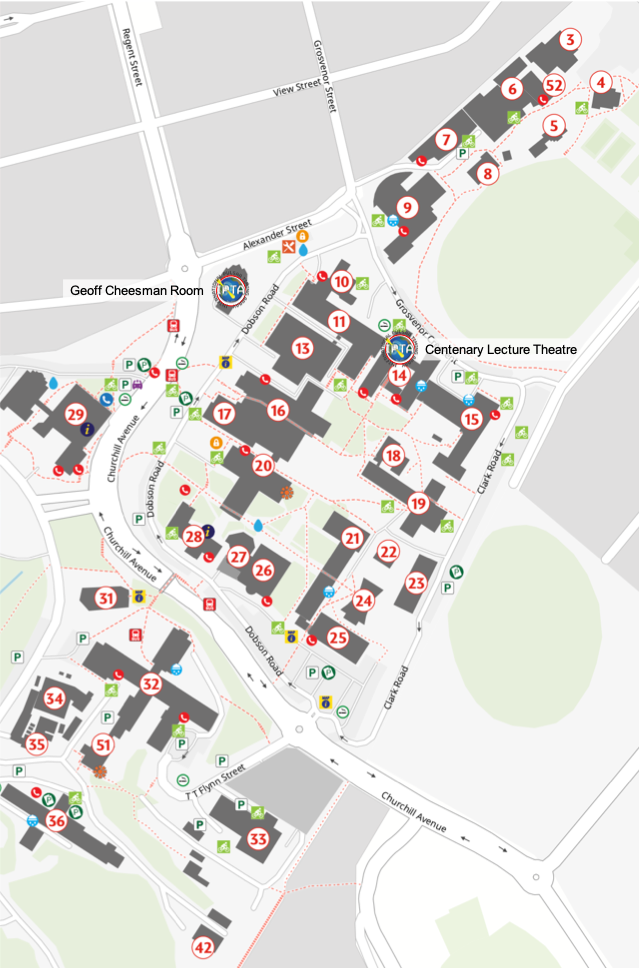 Transportation to/from Hobart international airport:
The university is about 21 kilometres from the Hobart international airport (HBA). The best options for getting from HBA to UTas are probably Uber, taxi, or rental car.
Hotel reservations (Hobart):
We have rooms blocked off at Wrest Point Hotel for the duration of the conference, at the following rates: 
Motor Inn rooms - $130.00
Water Edge - $140.00
Standard Tower Mountain - $155.00
Standard Tower Harbour - $165.00
Rates are based on a per night, room only basis and up to 2 guests per room. Additional fee of $40.00 will apply for additional guests. Wrest Point will offer the discounted rates 3 days prior and 3 days post the main dates (15-19 June). Please note if further nights are required, this will be at the best available rate.
The hotel is also happy to offer discounted buffet breakfast @ $19.00pp per day. This can be reserved by calling the reservations team on 1800 139 760. (Discount is only offered prior to check in. Walk in price is $25.00)
Reservations must be made 15 May 2020. Book a room via this link.