General Info
We are excited to be hosting the first in-person IPTA meetings since 2019 in Australia. The 2023 IPTA Science Meeting will be held in the tropical coastal town of Port Douglas, Queensland from 19-23 June. A preceding Student Workshop will take place from 13-16 June and will be held at the CSIRO Marsfield site in Sydney, NSW.
Before registering, please make sure that you review the IPTA code of conduct for the meeting.
Please contact Andrew Zic or Ryan Shannon with any inquiries.
Please note that registration and payment for the Student Workshop and Science Meeting is separate!
---
We acknowledge the Yirrganydji (Irrukandji) people as the traditional land owners of the Port Douglas region where our Science Meeting will be held, and the Wallumedegal people as the traditional land owners of the Marsfield region, where our Student Workshop will take place.
---
Student Workshop
The Student Workshop will be held at CSIRO Space & Astronomy headquarters in Marsfield, Sydney, Australia. Space & Astronomy operates the Australia Telescope National Facility radio telescopes and develops advanced radio astronomy instrumentation for radio telescopes around the world.
Many winter days in Sydney can be pleasant with sunshine and daytime high temperatures of 18-20 °C. However you can get unlucky and have a rainy day with slightly lower temperatures. Information about the expected weather conditions can be found at the Sydney Weather Forecast; please check it regularly leading up to your visit, as conditions are variable.
While it has always been referred to as the "Student Workshop", we intend the week to provide training opportunities for both students and scientists new and within the field. The workshop will consist of lectures and tutorials on pulsar observing, data processing, and GW analysis, plus more!
IPTA Hack week activities will run in parallel to the Student Workshop.
Please note: Due to logistical constraints, the maximum number of in-person attendees at the student week is 50. For those who aren't able to attend in-person, a virtual attendance option is also available. Virtual attendance at the Student Workshop is free, but registration is required so that we know how many participants to expect.
Registration
Please see the Registration section for details.
If you intend to present, please fill out the abstract submission form.
Accommodations
The preferred hotel is the Mercure Sydney Macquarie Park, which is offering a 15% discount off their best-available rates for 13-16 June 2023. The hotel is in close proximity to the Macquarie University Train Station, and a short bus ride or pleasant 30 minute walk to the student workshop venue.
To make a booking, please contact the Mercure reservations team via e-mail or by calling +61 02 7255 2300 to process the booking. Please note the discount is not redeemable online.
The discount code is 2306CSIROA.
For students who require funding assistance, a very small number of rooms are available at the CSIRO Marsfield lodge at a rate of ~$80 AUD per night. Please contact Andrew Zic and Leanne Edwards for details and availability.
Terms and Conditions
Please note: The below terms and conditions are set by the hotel, not the IPTA 2023 LOC.
All delegates will receive a 15% discount on our Best Available Rate.
Stay dates are from 13th June 2023 to 16th June 2023.
The discount will be available up until COB 13th May 2023 or until sold out prior.
All reservations require credit card as guarantee at time of booking.
Cancellations made within 72 hours prior will incur penalty equal to one night's accommodation.
Travel to the Student Workshop Venue
The preferred accommodation is a 50-60 minute journey on public transportation or a 40-50 minute (traffic-dependent) taxi/rideshare from Sydney Airport (SYD). Air travel is the most feasible option for travelling from the Student Workshop to the science meeting.
Science Meeting
The 2023 Science Meeting will occur at the Pullman Resort located in Port Douglas, in tropical Northern Queensland. Port Douglas is in close proximity to the Great Barrier Reef and Daintree Rainforest. Both attractions are day trips away from Port Douglas. June is during the dry season in Port Douglas, with daytime highs averaging 27 °C. Photos of the venue can be found below. For more information about the weather conditions to expect, please visit the Port Douglas Weather Forecast regularly in the weeks before the meeting, as the weather can be rapidly variable.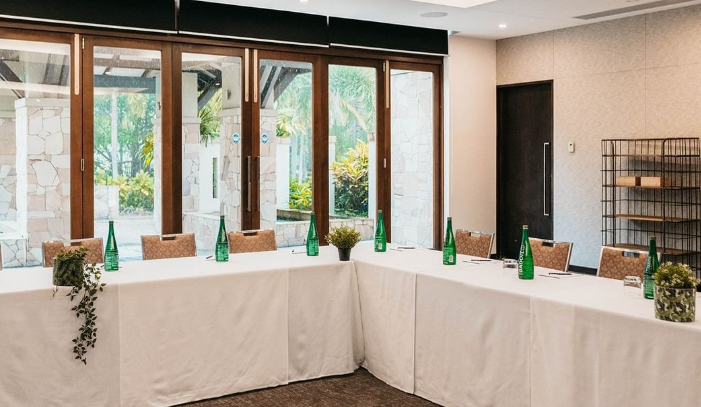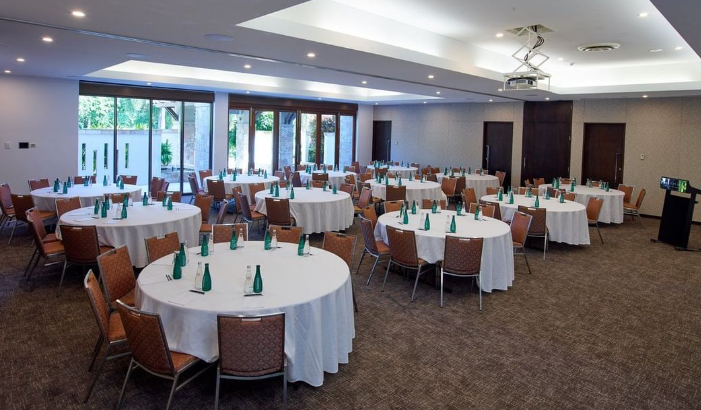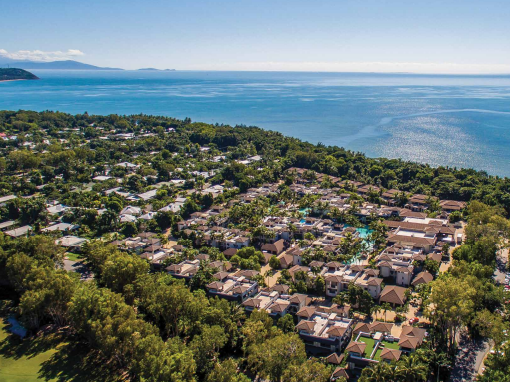 Registration
Please see the Registration section for details.
Accommodations
The cost of accommodation is to be covered by attendees.
Pullman Port Douglas Spa and Resort (Conference venue)
The Pullman has accommodation available at a conference rate for those attending the event. Please visit the webpage more information or to make a booking.
The conference hotel has resort-style apartments, including spacious multi-bedroom apartments. We encourage attendees to organize to share accommodation to make best use of the available space. This can be facilitated among your colleagues travelling to the meeting, and on the IPTA Slack where we will set up a dedicated channel.
Pullman accommodation details
Conference rates can be extended to delegates wishing to stay for 3 nights before and 3 nights after the dates of the event. To book those extra nights please contact Rosie Attenborough or call the Reservations Department from 8am-2pm Monday to Friday on 074084 3508.
Full breakfast is available for 1 guest per room. If you are staying in an apartment with 3 rooms, 3 breakfasts are included in the booking. For any additional guests, discounted breakfast rates are offered (A$35.00 per adult, A$15.00 per child).
An AUD $60.00 per room, per night surcharge will be incurred for a rollaway bed (adult or child), with a maximum of 1 rollaway per room.
Accommodation Alternatives
Please note that the organising committee does not have a conference fee arrangement with different venues other than the Pullman. A few suggested options will be listed here in due course.
Travel to the Science Meeting Venue
Transport, transfers and car hire to Port Douglas is available. The easiest way to get there is to arrive at Cairns airport (CNS) and take the Local Shuttle Bus to Port Douglas. Uber, Taxi, and rental cars are also available.
For more information visit the Cairns Airport Shuttle webpage.
Registration Details
Registration is currently open.
There are two modes available to attend the conference: virtual and in-person.
All attendees are required to register.
Early Bird Registration is available until 14 April 2023 23:59 UTC.
General Registration will close 15 May 2023 23:59 UTC.
Separate registration is required for the Student Workshop.
Please note: If you are registering for virtual attendance and reside outside of Australia, please use the tickets marked as Virtual International (this is so you are not charged tax). All domestic attendees registering for virtual attendance please use the tickets marked as Virtual Australia.
Student Workshop
Please note: The fee for Student Workshop Registration will be collected separately from that for the Science Meeting.
Also note: Due to logistical constraints, the maximum number of in-person attendees at the student week is 50.
In-person Attendence
In-person registration fee: $50 AUD (~$33 USD, €30)
Virtual Participation
Registration is free for virtual participation.
To register for the Student Workshop, please visit the event page at CSIRO.
Science Meeting
Please note that all registration fees below are exclusive of tax.
Student Registration


Early Bird Registration fee: $325 AUD (~$215 USD, €210)
General Registration fee: $400 AUD (~$265 USD, €250)


Non-Student Registration


Early bird Registration fee: $650 AUD (~$430 USD, €410)
General Registration fee: $800 AUD (~$530 USD, €500)


Virtual Registration


Virtual Registration fee: $80 AUD (~$53 USD, €50)


The registration form can be found here at Eventbrite.
Abstract Submission
If you intend to present, please fill out the abstract submission form.
Conference Dinner
Registration for the science meeting includes conference dinner for all attendees.
If attendees wish to bring a guest they can do so at a cost of $158 AUD per additional guest. To purchase additional conference dinner tickets please visit Eventbrite.
Financial Support
We have a small amount of financial support available to subsidise registration fees. Please fill in the financial support form and a member of the Local Organising Committee will be in contact with you upon review of all submissions by April 16.
Refunds and cancellation
Please contact OzGrav by email about your Science Meeting Registration if you require a refund, either because you are cancelling your attendance or because you wish to transfer from in-person to virtual attendance. Eventbrite will retain a fee of $40.49 AUD from your total refund.
Requests for refunds will need to be received by 15 May 2023 23:59 UTC. No refunds will be provided after that date, including partial refunds from ticket transfers (from in-person to virtual and vice versa).
More information:
To inquire about your registration, please email OzGrav.


COVID-19 Guidelines
We highly recommend that attendees wear a mask whilst indoors and test for COVID-19 before attending the conference. If you are feeling unwell then please do not join in person.
Surgical face masks and Rapid Antigen Tests will be made available at the registration desk.


Visas
Please note that an invitation letter may be required to obtain a visa to enter Australia. It is best to start the process of obtaining a visa early. We suggest visiting the Australian Immigration and Home Affairs website to find more info on which visas are needed.
What visa do I need to enter Australia as an international attendee?


We suggest to visit the Australian Immigration and Home Affairs website to find more info on which visas to apply for.


Who will organise and pay for my visa?


It is the responsibility of the attendees to apply for the appropriate visa and pay the associated costs. We are not involved in the visa granting process.


Do I need a letter of invitation?


If your visa application requires a letter of invitation from the event organiser, please contact OZGrav by email with the following information (more information may be required depending on your circumstances):

Full name as stated on your passport
Professional title/job title
Institution/Organisation name
Address of your Institution/Organisation




Full Schedule
The student workshop will be held first, from 13-16 June 2023, at the CSIRO Marsfield site in Sydney, NSW; it will be followed by a science meeting during 19-23 June 2023 in Port Douglas, Queensland. The granular schedule will be posted here after it has been finalized.
Student Workshop
TBD.
Science Meeting
TBD.
Code of Conduct
The organizers are committed to making this meeting productive and enjoyable for everyone, regardless of gender, sexual orientation, disability, physical appearance, body size, race, nationality, or religion. We will not tolerate harassment of participants in any form. Please follow these guidelines:
Behave professionally. Harassment and sexist, racist, or exclusionary comments or jokes are not appropriate. Harassment includes sustained disruption of talks or other events, inappropriate physical contact, sexual attention or innuendo, deliberate intimidation, stalking, and photography or recording of an individual without consent. It also includes offensive comments related to gender, sexual orientation, disability, physical appearance, body size, race, or religion.
All communication should be appropriate for a professional audience including people of many different backgrounds. Sexual language and imagery is not appropriate.
Be kind to others. Do not insult or put down other attendees. Participants asked to stop any inappropriate behavior are expected to comply immediately. Attendees violating these rules may be asked to leave the event at the sole discretion of the organizers without a refund of any charge.
You are welcome to engage with this event and your colleagues through social media, provided that your communications are respectful, appropriate for a professional audience, and adhere to the Code of Conduct. If you have questions or criticisms about a colleague's research or presentation, we strongly encourage you to communicate that directly to your colleague rather than via social media. We also encourage you to only post things on social media about other people, which you would be comfortable saying to them in person.
If you have any concern about the behavior of anyone at the event, please speak in confidence to the LOC co-chair Ryan Shannon and a member of the IPTA Diversity, Equity, and Inclusion Committee (members to be determined).
Acknowledgment: This code of conduct is based on the "London Code of Conduct", as originally designed for the conference "Accurate Astrophysics. Correct Cosmology", held in London in July 2015. The London Code of Conduct was adapted with permission by Andrew Pontzen and Hiranya Peiris from a document by Software Carpentry, which itself derives from original Creative Commons documents by PyCon and Geek Feminism. It is released under a CC-Zero license for reuse. To help track people's improvements and best practice, please retain this acknowledgment, and log your re-use or modification of this policy at https://github.com/apontzen/london_cc.
Helpful Guides for the Meeting
TBD.